Hello World! Happy Wednesday! Sorry for being late getting The Round-Up live. My schedule has gotten a little too busy for my liking. Anyhoo, the features are really just so lovely; so let's get to it!
Welcome to:
Round-Up Feature #1
What an amazing repurpose! Be sure to stop by One More Time Events to get the tutorial!
Round-Up Feature #2
Sum of Their Stories took an old box frame and gave it a fresh new look. Perfect for a pretty kitchen.
Round-Up Feature #3
The B Farm is showing off her newly transformed telephone table. So lovely!
Round-Up Feature #4
The Little White House removed the drywall ceiling to expose the existing beams. Not only did it add height to the room, but it looks amazing in her darling cottage.
If you were featured, please grab a feature button below: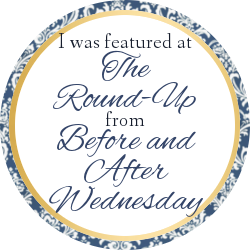 <a href="http://www.thededicatedhouse.com" target="_blank"><img src="http://i1212.photobucket.com/albums/cc454/pianoprincessdesigns/roundupfeatured_zpsf4b511ca.png~original" alt="The Dedicated House" width="250″ height="250″ /></a>
Click the links below for any posts you may have missed:
The Sunday Showcase from MIP Monday
Weekly Feature Series
A New Bench Cushion
Anything Blue Friday – Week 109
Giveaway Time at The Dedicated HouseAren't they amazing? Before you go, be sure to enter the Giveaway for the Mason Jar Candles. They are so pretty and have heavenly scents. I hope to see everyone tonight for Before & After Wednesday! Have a great day! Go with God and remember to be kind to one another!

Toodles,

Related articles across the web