Hello World! It's time to check out the features at The Sunday Showcase from the Make it Pretty Monday party! The Sunday Showcase is the place to showcase the most viewed posts from last week's party! Let's get to it, shall we?
Welcome to:
4th Place for Most Views
Debbie Dabble has an adorable dove family nesting in one of her hanging pots. How lovely! When I lived in California, I had a pair of doves that would nest in one of my hanging pots every Spring for 4 years. I loved peeking in and seeing their babies.
3rd Place for Most Views
Cranium Bolts took us on a photography tour of the Graze restaurant he recently visited. They have introduced a European Grill Menu which looks absolutely divine. Thank you, Shiju for sharing your lovely photos with us!
2nd Place for Most Views
Melissa Kaylene shared a great post about What is Confit Orange? & How to Make It. Be sure to drop in for a visit to get the details.
1st Place for Most Views
Snagging the most views at The Sunday Showcase is the living room reveal from Farmhouse Flip. You must run over to check out the before! Boy, have they come a long way!!
If you were featured, please grab a feature button below: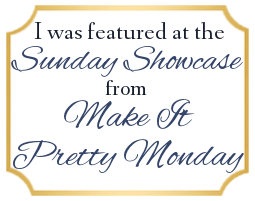 <a href="http://www.thededicatedhouse.com" target="_blank"><img src="http://i1212.photobucket.com/albums/cc454/pianoprincessdesigns/sundayshowcasefeaturedbutton_zpsccb2bfbf.png~original" alt="The Dedicated House" width="250″ height="201″ /
You sweet, little lovelies will be on my Sunday Showcase Pinterest board; pinned from your site of course. In addition, you will be on my Facebook page and Hometalk page with credit given to you with a link back to your blog! I'm a couple of months behind in doing these postings; but once you see me pinning from your site that will let you know that I've posted your feature on Facebook and Hometalk.
Click the links below for any posts you may have missed:
Before & After Wednesday – Week 73
The Round-Up from B&A Wednesday
Thank you for stopping by for a little visit! I hope you enjoyed The Sunday Showcase from the Make it Pretty Monday party! Have a lovely evening! Go with God and remember to be kind to one another!
Toodles,
Related articles across the web