Hello World! Here we are at another Sunday Showcase from our Make it Pretty Monday party. The place to showcase the top views from the party. So, let's take a look at your favorites.
Welcome to:
4th Place for Most Views
Oh, pretty, Rita! I love your renovated balcony! It is so grand and stunning. To check out the stages of this renovation, stop by Panoply.
3rd Place for Most Views
Pretty Tenneil took us along with her on 2 Barn Sales. These sales look like so much fun! To take a peek, twirl on over to Dirty Hands, Beautiful Life.
2nd Place for Most Views
Pretty Tarah renovated this gorgeous rocking chair! Just check out the amazing wood detail! Tarah and her pretty rocking chair can be found at Grandma's House DIY.
1st Place for Most Views
Pretty Marci has the best garden visitors. More of these little beauties can be seen at Stone Cottage Adventures.
Such loveliness! If you were featured, please grab a feature button below: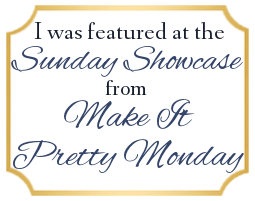 <a href="http://www.thededicatedhouse.com" target="_blank"><img src="http://i1212.photobucket.com/albums/cc454/pianoprincessdesigns/sundayshowcasefeaturedbutton_zpsccb2bfbf.png~original" alt="The Dedicated House" width="250″ height="201″ /
You sweet, little lovelies will be on my Sunday Showcase Pinterest board; pinned from your site of course. In addition, you will be on my Facebook page and Hometalk page with credit given to you with a link back to your blog! I'm a couple of months behind in doing these postings; but once you see me pinning from your site that will let you know that I've posted your feature on Facebook and Hometalk.
Click the links below for any posts you may have missed:
Doing Good for Others Brings Happiness to You
The Round-Up from B&A Wednesday
Thank you for stopping by for a little visit! I hope you enjoyed The Sunday Showcase from the Make it Pretty Monday party! Have a lovely evening! Go with God and remember to be kind to one another!
Toodles,