Hello World! Here we are at another Sunday Showcase from our Make it Pretty Monday party. The place to showcase the top views from the party. I hope your weekend was splendid! We made it back from all of our excursions and spent the rest of the time relaxing in the pool and doing a mound of laundry. It seems to never end; and there are only three of us!
Welcome to:
4th Place for Most Views
In a time where it seems respect is a thing of the past, Hyacinths for the Soul reminds us of the importance of our beautiful flag and encourages us to teach the next generation about our grand flag.
3rd Place for Most Views
Down Sprigg Lane transformed a sewing cabinet into this way too cute phone stand. Be sure to stop by to check out this little gem.
2nd Place for Most Views
All of the Summer Home Tours are usually a big hit at all the parties. And, Life Love Larson just happens to be one of the favorites. Stop by to take the tour of her lovely home.
1st Place for Most Views
Snagging the top spot is this simply divine Chocolate Avocado Pudding from To Simply Inspire. Dash on over to pick up a copy of the recipe.
Such loveliness! If you were featured, please grab a feature button below: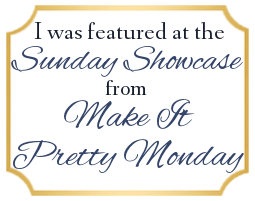 <a href="http://www.thededicatedhouse.com" target="_blank"><img src="http://i1212.photobucket.com/albums/cc454/pianoprincessdesigns/sundayshowcasefeaturedbutton_zpsccb2bfbf.png~original" alt="The Dedicated House" width="250″ height="201″ /
You sweet, little lovelies will be on my Sunday Showcase Pinterest board; pinned from your site of course. In addition, you will be on my Facebook page and Hometalk page with credit given to you with a link back to your blog! I'm a couple of months behind in doing these postings; but once you see me pinning from your site that will let you know that I've posted your feature on Facebook and Hometalk.
Thank you for stopping by for a little visit! I hope you enjoyed The Sunday Showcase from the Make it Pretty Monday party! Have a lovely evening! Go with God and remember to be kind to one another!