Hello World! Welcome Friends! Here we are in the midst of the holidays!! I love this time of year; plus I think we all could use a big dose of holiday cheer and kindness to one another! All of the Christmas bins are down, Little Dedicated is off from school for a week, and I'm ready to have the house decorated for Christmas! How are you doing on your decorating? I have one tree up and decorated, however she needs to be fluffed a little more before I show her off to you. The Hearth room has been rearranged and Mr. Dedicated put that tree up for me yesterday. Little Dedicated and I worked on the hearth room tree today, in between Christmas movie watching. I love it when she is home! Let's get to the fan favorites from last week's party!
Welcome to:
4th Place for Most Views
I too loved this post from Zenda at She's Lady of the Manor. The post is about her beautiful daughter's wedding and Zenda's gorgeous kitchen! While her kitchen is stunning, I chose this picture because it conveys the heart! So lovely to see! Congratulations to the happy couple! Zenda, I know your heart is full!
3rd Place for Most Views
My Kentucky Living has been readying her guest bedrooms for company this holiday season. Be sure to pick up her tips for a perfectly pleasant guest bedroom. Your guests will thank you!
2nd Place for Most Views
In the 2nd spot is this lovely dress from Tea Cottage Pretties with some pretty white lights added to the skirt. Nothing like Pinterest to give you some great ideas!
1st Place for Most Views
The Red Painted Cottage jumped on the One Room Challenge bandwagon and made over her Master Bedroom. The new coastal theme gives the space a relaxed, laid-back feel. Perfect for a bedroom. Congrats, Carol on accomplishing your One Room Challenge. I know how hard it can be, but it is so worth it!
If you were featured, please grab a feature button below: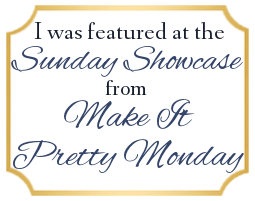 <a href="http://www.thededicatedhouse.com" target="_blank"><img src="http://i1212.photobucket.com/albums/cc454/pianoprincessdesigns/sundayshowcasefeaturedbutton_zpsccb2bfbf.png~original" alt="The Dedicated House" width="250″ height="201″ /
You sweet, little lovelies will be on my Sunday Showcase Pinterest board; pinned from your site of course. In addition, you will be on my Facebook page and Hometalk page with credit given to you with a link back to your blog! I'm a couple of months behind in doing these postings; but once you see me pinning from your site that will let you know that I've posted your feature on Facebook and Hometalk.
Click the links below for any posts you may have missed:
One Room Challenge – Little Dedicated's Room Makeover
Thank you for stopping by for a little visit! I hope you enjoyed The Sunday Showcase from the Make it Pretty Monday party! Have a lovely day/night depending on where you are in the world! Go with God and remember to be kind to one another!