Hello World! Welcome Friends! I hope your weekend has been pleasant so far. Today after church, this girl will be busy painting away. It really does seem that I'm always painting something. LOL. If you missed my post on the Kitchen Makeover week 2 of the One Room Challenge, I'll provide the link below. I'm not only painting the kitchen cabinets and hardware, I'm giving the interior of the cabinets and the pantry an organization makeover. I hope you will follow along for the journey. For now, let's take a look at the top 4 views from last week's party.
Welcome to:
4th Place for Most Views
Kicking off The Showcase is A Spirit of Simplicity showing off the gorgeous floors they just put in! If you missed it, be sure to stop by to see these beauties!
3rd Place for Most Views
It is time for tea at My Cozy Corner. What a beautiful tea cup and saucer! Betty always sets such an inviting tea!
2nd Place for Most Views
In the 2nd spot are these sweet flowers that Purple Hues and Me created. Gail amazes me with her crafty talent!!
1st Place for Most Views
Okay, seriously! This tablescape from Rosemary & Thyme is absolutely stunning! You must go and check out all of the details!
If you were featured, please grab a feature button below: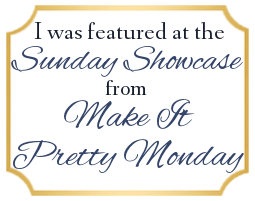 <a href="http://www.thededicatedhouse.com" target="_blank"><img src="http://i1212.photobucket.com/albums/cc454/pianoprincessdesigns/sundayshowcasefeaturedbutton_zpsccb2bfbf.png~original" alt="The Dedicated House" width="250″ height="201″ /
You sweet, little lovelies will be on my Sunday Showcase Pinterest board; pinned from your site of course. In addition, you will be on my Facebook page and Hometalk page with credit given to you with a link back to your blog! I'm a couple of months behind in doing these postings; but once you see me pinning from your site that will let you know that I've posted your feature on Facebook and Hometalk.
Click the links below for any posts you may have missed!
One Room Challenge – The Kitchen – Week 2
One Room Challenge – Kitchen Makeover
Fall Decor
I'd love for you to join my email list! You'll receive a notification straight to your inbox once a week on Monday which will include links to party posts and my home project posts! Simply enter your address below.
Thank you for stopping by for a little visit! I hope you enjoyed The Sunday Showcase from the Make it Pretty Monday party! See you tomorrow for Make it Pretty Monday! Look for an email from me when the shindig is live. Have a lovely day/night depending on where you are in the world! Go with God and remember to be kind to one another!