Hello World! Welcome Friends! How's your weekend going? Ours has been busy as usual. Yesterday my sister and I went to Mom's house to start the big purge to get Mom ready to move into her new place. Then last night, I saw Beauty & the Beast with Mr. Dedicated and Little Dedicated. It is such a pretty movie! It completely had me wanting to live in a castle. For the past couple of days we have been in the planning stages of the room I'm decorating for the One Room Challenge. If you missed my One Room Challenge last October, click here to see Little Dedicated's room turned into a Pink Parisian dream. This year the breakfast room is getting decorated! I'm super excited about this since I love a good deadline. I work extremely well under pressure. You give me too much time and it might not get done. But, boy I can turn on the after burners if I feel crunched for time. Anyhoo, I hope you will follow along for that fun transformation. Look for the first post this Thursday, April 6th.
Welcome to:
4th Place for Most Views
What a gorgeous Easter table from Lincluden Cottage Life! Be sure to hop on over for loads of ideas and inspiration.
3rd Place for Most Views
Home is Where my Heart Is shared the final reveal of her upstairs hallway that she has been working so diligently on! I love the black doors!
2nd Place for Most Views
In 2nd place is this lovely painted chandelier from Biljana Shabby. She definitely knows how to paint a chandy. Stop by to pick up her tips.
1st Place for Most Views
Rounding out the features in 1st place is the Spring Home Tour at Home Chic Club. If you missed it, you will want to pop on over to see her gorgeous home!
If you were featured, please grab a feature button below: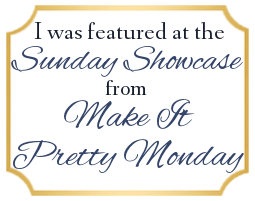 <a href="http://www.thededicatedhouse.com" target="_blank"><img src="http://i1212.photobucket.com/albums/cc454/pianoprincessdesigns/sundayshowcasefeaturedbutton_zpsccb2bfbf.png~original" alt="The Dedicated House" width="250″ height="201″ /
You sweet, little lovelies will be on my Sunday Showcase Pinterest board; pinned from your site of course. In addition, you will be on my Facebook page and Hometalk page with credit given to you with a link back to your blog! I'm a couple of months behind in doing these postings; but once you see me pinning from your site that will let you know that I've posted your feature on Facebook and Hometalk.
Click the pictures below for any posts you may have missed:
Thank you for stopping by for a little visit! I hope you enjoyed The Sunday Showcase from the Make it Pretty Monday party! See you tomorrow morning for Make it Pretty Monday! Have a lovely day/night depending on where you are in the world! Go with God and remember to be kind to one another!