Hello World! Well, I'm back to blogging after my hard drive crashed. I'll tell you more about that tomorrow night. But, for now, let's take a look at the top 4 fan favorites from the last Make it Pretty party.
Welcome to:
4th Place for Most Views
Starting off the Showcase is this post from Culinary Flavors about Cakeffles. What are Cakeffles? Dash on over for a visit to find out and to pick up the recipe. Doesn't this look delicious?
3rd Place for Most Views
A Stroll Thru Life shared some amazing Fall vignettes from the past. These lovely vignettes will definitely put you in the mood to pull out your Fall decor and begin fluffing your nest. That is, if you haven't already decorated for Fall like this girl.
2nd Place for Most Views
Popping into 2nd Place is this fun find Timeless Treasures shared with us. You will want to stop in to check out the story on this one. Did she find a treasure inside?
1st Place for Most Views
Panoply took the top spot for most views with her post about her sister's back garden transformation. There's nothing better than a good before & after! Be sure to stop by to have a look at this beautiful garden transformation.
If you were featured, please grab a feature button below: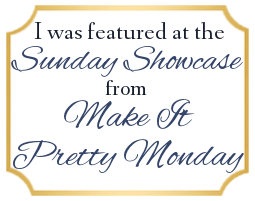 <a href="http://www.thededicatedhouse.com" target="_blank"><img src="http://i1212.photobucket.com/albums/cc454/pianoprincessdesigns/sundayshowcasefeaturedbutton_zpsccb2bfbf.png~original" alt="The Dedicated House" width="250″ height="201″ /
You sweet, little lovelies will be on my Sunday Showcase Pinterest board; pinned from your site of course. In addition, you will be on my Facebook page and Hometalk page with credit given to you with a link back to your blog! I'm a couple of months behind in doing these postings; but once you see me pinning from your site that will let you know that I've posted your feature on Facebook and Hometalk.
Click the links below for any posts you may have missed:
How Spending Time Outdoors can be Inspiring
The Dining Table – What Do You Use Yours For?
Thank you for stopping by for a little visit! I hope you enjoyed The Sunday Showcase from the Make it Pretty Monday party! Have a lovely day/night depending on where you are in the world! Go with God and remember to be kind to one another!