Hello World! Welcome Friends! School's out and it's Memorial Day weekend! How has your weekend been so far? Make it Pretty will go live in the morning; hopefully before the day's festivities begin. We will be celebrating with some dear friends. In fact, we've been friends since the summer between my 7th and 8th grade years. It's such a blessing to have a friend that sticks with you through thick and thin!
Welcome to:
4th Place for Most Views
We all ran over to check out all of the houses that Calypso in the Country shared. I had a hard time choosing just one to feature! They are all so beautiful and different!
3rd Place for Most Views
Penny's Vintage Home shared her porch ready for Summer. There are so many fun vignettes to check out. Be sure to visit to take it all in.
2nd Place for Most Views
Comfort Spring has 7 tips to add wow to your garden. I need to get busy on our yard here at the new house; so these will come in quite handy.
1st Place for Most Views
In 1st place is Surroundings by Debi with How to Create an Easy Decorating Plan. Fabulous advice!
If you were featured, please grab a feature button below: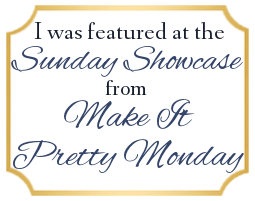 <a href="http://www.thededicatedhouse.com" target="_blank"><img src="http://i1212.photobucket.com/albums/cc454/pianoprincessdesigns/sundayshowcasefeaturedbutton_zpsccb2bfbf.png~original" alt="The Dedicated House" width="250″ height="201″ /
You sweet, little lovelies will be on my Sunday Showcase Pinterest board; pinned from your site of course. In addition, you will be on my Facebook page and Hometalk page with credit given to you with a link back to your blog! I'm a couple of months behind in doing these postings; but once you see me pinning from your site that will let you know that I've posted your feature on Facebook and Hometalk.
Click the pictures below for any posts you may have missed!
Thank you for stopping by for a little visit! I hope you enjoyed The Sunday Showcase from the Make it Pretty Monday party! See you tomorrow for Make it Pretty Monday! Look for an email from me when the shindig is live. Have a lovely day/night depending on where you are in the world! Go with God and remember to be kind to one another!