Hello World! Sorry for being a little absent last week. I came down with a summer cold and ran a fever for several days. It finally broke on Thursday. I'm so glad to be back to blogging and a clean kitchen, LOL! Now, it's time to see the top 4 fan favorites from last week's Make it Pretty party!
Welcome to:
4th Place for Most Views
Kicking of The Showcase is the Summer Home tour from Designs by Pinky. What a gorgeous jar! Stop by to take the tour and see all of the pretties.
3rd Place for Most Views
This is fantastic! It's DIY Decorative Concrete Signs from Paint Yourself a Smile! You will for sure want to pop in to pick up the tutorial for this one!
2nd Place for Most Views
One More Time Events has a great post encouraging us to create our own Farmhouse Decor with DIY Painted Baskets. Love!
1st Place for Most Views
Stacey who blogs at Poofing the Pillows has some big, big news to share! To find out, you'll have to pay her a visit! Happy for you, my friend!
If you were featured, please grab a feature button below: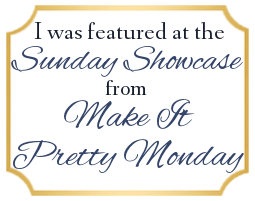 <a href="http://www.thededicatedhouse.com" target="_blank"><img src="http://i1212.photobucket.com/albums/cc454/pianoprincessdesigns/sundayshowcasefeaturedbutton_zpsccb2bfbf.png~original" alt="The Dedicated House" width="250″ height="201″ /
You sweet, little lovelies will be on my Sunday Showcase Pinterest board; pinned from your site of course. In addition, you will be on my Facebook page and Hometalk page with credit given to you with a link back to your blog! I'm a couple of months behind in doing these postings; but once you see me pinning from your site that will let you know that I've posted your feature on Facebook and Hometalk.
Click the links below for any posts you may have missed:
Where the Wrapped Books Landed
Thank you for stopping by for a little visit! I hope you enjoyed The Sunday Showcase from the Make it Pretty Monday party! Have a lovely evening! Go with God and remember to be kind to one another!