Hello World! Welcome Friends! It's Sunday and time to show off the top 4 views from last week's Make it Pretty party! If you missed them, now is your chance to see them!
Welcome to:
4th Place for Most Views
A Debbie-Dabble Christmas is kicking off The Showcase with her tour of the Christmas decor in her Master Bedroom. This Victorian lovely is just one of her 20+ trees! You read that right! Debbie has amazing energy!! Stroll on over to see more of her Christmas decor!
3rd Place for Most Views
In the 3rd spot is this wonderful Holiday Traditions post from Andrea at Living on Cloud Nine where she let's us in on her family traditions. Such a handsome family and wonderful traditions!
2nd Place for Most Views
Penny's Vintage Home shares her beautiful village scenes that she recently gave a makeover. So very pretty!
1st Place for Most Views
The Red Painted Cottage is in the top spot with her post on 5 Ways you Can Help your Favorite Bloggers! Such a great post! Stop by for a good read if you missed it.
If you were featured, please grab a feature button below: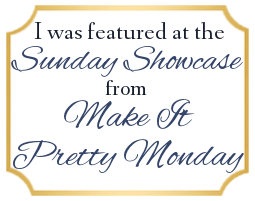 <a href="http://www.thededicatedhouse.com" target="_blank"><img src="http://i1212.photobucket.com/albums/cc454/pianoprincessdesigns/sundayshowcasefeaturedbutton_zpsccb2bfbf.png~original" alt="The Dedicated House" width="250″ height="201″ /
You sweet, little lovelies will be on my Sunday Showcase Pinterest board; pinned from your site of course. In addition, you will be on my Facebook page and Hometalk page with credit given to you with a link back to your blog! I'm a couple of months behind in doing these postings; but once you see me pinning from your site that will let you know that I've posted your feature on Facebook and Hometalk.
Click the links below for any posts you may have missed:
Meet Bessie the Cow – Country Glamour
One Room Challenge – Little Dedicated's Room Makeover
Before you go, check out the dates for the Christmas Tour starting tomorrow. Yours truly is on Wednesday! I've provided the schedule below so you can check them out first thing in the morning!
Cozy At Christmas Blog Tour
Let's Add Sprinkles/ Hyacinths for the Soul/ Southern DayDreams/ White Spray Paint/ Garden Up Green/ Have a Daily Cup of Mrs. Olson/ Ellie and Elizabeth
Brookhollow Lane/ At Home With Jemma/ My Heart Lives Here/ The B Farm/ Botanic Bleu/ Kitty's Kozy Kitchen/ Art and Sand/ Ash Tree Cottage
Sweet Nothings/ At Rivercrest Cottage/ Opulent Cottage/ Decor to Adore/ Fern Creek Cottage/ The Dedicated House/ Bluesky Kitchen
Thank you for stopping by for a little visit! I hope you enjoyed The Sunday Showcase from the Make it Pretty Monday party! Have a lovely day/night depending on where you are in the world! Go with God and remember to be kind to one another!