Hello World! Welcome Friends! Last week's Make it Pretty party was definitely a pretty one loaded with inspiration and of course food! Nothing like seeing some great projects to get that little burst of energy to finish up those projects we've been meaning to get to! Now is the time!
Welcome to:
4th Place for Most Views
Kicking off the features is this gorgeous Kale Rainbow Salad from Brooklyn Farm Girl. Drop by to pick up the recipe.
3rd Place for Most Views
Sarah at Hyacinths for the Soul shared a lovely post about a few of her favorite things. I know one of my favorite things is her beautiful back garden!
2nd Place for Most Views
Cut Off in the Keweenaw shared this gorgeous Antique Cheval Dresser. Be sure to stop by to see all of the details of this amazing piece.
1st Place for Most Views
In the top spot is this great post from The Professional Mom Project. To check out her list, pop on over for a little visit!
If you were featured, please grab a feature button below: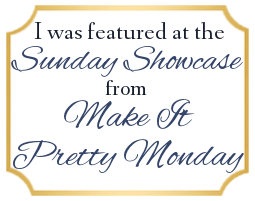 <a href="http://www.thededicatedhouse.com" target="_blank"><img src="http://i1212.photobucket.com/albums/cc454/pianoprincessdesigns/sundayshowcasefeaturedbutton_zpsccb2bfbf.png~original" alt="The Dedicated House" width="250″ height="201″ /
You sweet, little lovelies will be on my Sunday Showcase Pinterest board; pinned from your site of course. In addition, you will be on my Facebook page and Hometalk page with credit given to you with a link back to your blog! I'm a couple of months behind in doing these postings; but once you see me pinning from your site that will let you know that I've posted your feature on Facebook and Hometalk.
Click the pictures below for any posts you may have missed!
Thank you for stopping by for a little visit! I hope you enjoyed The Sunday Showcase from the Make it Pretty Monday party! See you tomorrow for Make it Pretty Monday! Look for an email from me when the shindig is live. Have a lovely day/night depending on where you are in the world! Go with God and remember to be kind to one another!