Hello World! Welcome Friends! We are a week out from Christmas!! Every year just seems to fly by at lightning speed. We are working through our list and getting closer to having it all done every day! All I have left to do is wrap presents, clean and grocery shop! I know everyone is super busy, but if you missed my Christmas Tour Part Two you can check that out HERE.
But for now, let's take a break from our to do list and check out the top 4 views from last week's party!
Welcome to:
4th Place for Most Views
Starting off The Showcase is this yummy post from Bird's Party. I could go for a bag of these right now!
3rd Place for Most Views
Sew Historically shared the prettiest craft. You will definitely want to check out her Ice Candle Holder in case you missed it!
2nd Place for Most Views
Decor to Adore is recreating a Dickens Christmas. This is such a charming post and full of historical facts from the Victorian era. Loved this so much!
1st Place for Most Views
In 1st Place is s great Holiday Pillow Slipcover Tutorial from Simply September. If you missed it, be sure to pop on over for a visit.
If you were featured, please grab a feature button below: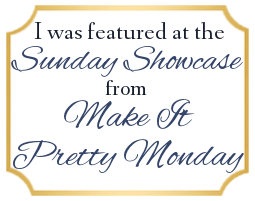 <a href="http://www.thededicatedhouse.com" target="_blank"><img src="http://i1212.photobucket.com/albums/cc454/pianoprincessdesigns/sundayshowcasefeaturedbutton_zpsccb2bfbf.png~original" alt="The Dedicated House" width="250″ height="201″ /
You sweet, little lovelies will be on my Sunday Showcase Pinterest board; pinned from your site of course. In addition, you will be on my Facebook page and Hometalk page with credit given to you with a link back to your blog! I'm a couple of months behind in doing these postings; but once you see me pinning from your site that will let you know that I've posted your feature on Facebook and Hometalk.
Click the links below for any posts you may have missed!
Christmas Tour Part Two
Christmas Tour Part One
I'd love for you to join my email list! You'll receive a notification straight to your inbox once a week on Monday which will include links to party posts and my home project posts! Simply enter your address below.
Thank you for stopping by for a little visit! I hope you enjoyed The Sunday Showcase from the Make it Pretty Monday party! See you tomorrow for Make it Pretty Monday! Look for an email from me when the shindig is live. Have a lovely day/night depending on where you are in the world! Go with God and remember to be kind to one another!