Hello World! Welcome Friends! It has been a gorgeous weekend here in the South! I love when Spring starts showing up a little early. Spring and Fall are my favorite seasons and I'm looking forward to seeing what sprouts here at the new house. Speaking of the new house, we are making headway with unpacking and getting her organized. Furniture has been ordered and plans are in the works for adding another bedroom. I'll keep you posted on that most definitely! For now, it's all about you and the top 4 views from last week's Make it Pretty Monday party!
Welcome to:
4th Place for Most Views
Harmony Hills Home and Garden is planning one of her garden spots and this is one of her inspiration pictures. Gorgeous!
3rd Place for Most Views
This post from Condo Blues is handy for all of us who might have an over abundance of fabric. I think my favorite is the white bins; easy to see what you have.
2nd Place for Most Views
In the 2nd spot is the tutorial for this lovely card from Nutz about Stamping! Stop by to check out all of the details.
1st Place for Most Views
These Chili-Lime Pork Tacos look and sound divine! Dash on over to The Lazy Gastronome to pick up the recipe for this yummy dish!
If you were featured, please grab a feature button below: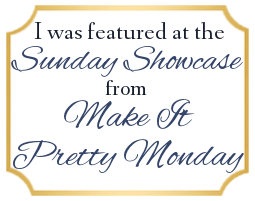 <a href="http://www.thededicatedhouse.com" target="_blank"><img src="http://i1212.photobucket.com/albums/cc454/pianoprincessdesigns/sundayshowcasefeaturedbutton_zpsccb2bfbf.png~original" alt="The Dedicated House" width="250″ height="201″ /
You sweet, little lovelies will be on my Sunday Showcase Pinterest board; pinned from your site of course. In addition, you will be on my Facebook page and Hometalk page with credit given to you with a link back to your blog! I'm a couple of months behind in doing these postings; but once you see me pinning from your site that will let you know that I've posted your feature on Facebook and Hometalk.
Click the links below for any posts you may have missed:
3 Interesting Tech Trends in 2017 for our Homes
What about Underwater Gardening?
Thank you for stopping by for a little visit! I hope you enjoyed The Sunday Showcase from the Make it Pretty Monday party! See you tomorrow morning for Make it Pretty Monday! Have a lovely day/night depending on where you are in the world! Go with God and remember to be kind to one another!