Hello World! Welcome Friends! Sorry I didn't get this post live yesterday. I came down with food poisoning yesterday and just wasn't feeling like doing much of anything. Mr. Dedicated had it as well since we split a plate of food while we were out Saturday night. Anyhoo, we are all better today, just running behind our time.
Welcome to:
4th Place for Most Views
Starting the Showcase off is this charming hutch decked out with some beauties from Poppy View! Be sure to stop by to see more.
3rd Place for Most Views
I don't think there is a soul alive that doesn't love a blue & white tablescape! Celebrate & Decorate has a gorgeous one that everyone rushed over to see!
2nd Place for Most Views
Calypso in the Country needs your help! She is about to paint her dining room saying goodbye to the red and wants your input on the new color! My vote is navy. So, if you haven't voted, pop on over to tell her what you think.
1st Place for Most Views
To Simply Inspire is in the top spot with her yummy Guacamole recipe! Dash on over to get the scoop.
If you were featured, please grab a feature button below: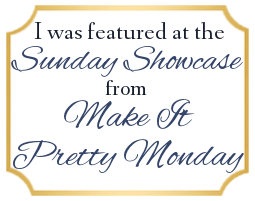 <a href="http://www.thededicatedhouse.com" target="_blank"><img src="http://i1212.photobucket.com/albums/cc454/pianoprincessdesigns/sundayshowcasefeaturedbutton_zpsccb2bfbf.png~original" alt="The Dedicated House" width="250″ height="201″ /
You sweet, little lovelies will be on my Sunday Showcase Pinterest board; pinned from your site of course. In addition, you will be on my Facebook page and Hometalk page with credit given to you with a link back to your blog! I'm a couple of months behind in doing these postings; but once you see me pinning from your site that will let you know that I've posted your feature on Facebook and Hometalk.
Click the links below for any posts you may have missed:
Create a Totally Charming Kitchen in 4 Easy Steps
Top Bathroom Renovation Trends in Canada
Thank you for stopping by for a little visit! I hope you enjoyed The Sunday Showcase from the Make it Pretty Monday party! See you tonight for Make it Pretty Monday! Have a lovely day/night depending on where you are in the world! Go with God and remember to be kind to one another!